Andrew Jackson Ricketts Family
submitted by Connie Miller
"Uncle Jack"
1820-1920

Boonville Weekly Enquirer - Friday, July 27, 1900
Obituary
Andrew J Ricketts, one of the pioneers of Warrick County, died at the home of his son at Stewardsville, Friday, aged 80 years 5 months and 6 days, having been born, February 14, 1820, in Hart Township. He was the son of William and Margaret Ricketts and on of thirteen children, ten boys and three girls all of whom proceeded him to the grave; his twin brother Harrison having died in the autumn of 1894 when they were seventy-for years of age. His father died when he was quite a small boy of about six years old and he went to work fort John Lynn, the man Lynnville was named for, and while working for him, he helped to clear the ground where Lynnville now stands. At the age of twenty-one, in 1841, he was married to Miss Nancy A Gadbury, a native of Casey County, Kentucky, who had come to this state with her sister and her husband, John and Elizabeth Barrow. They lived a peaceful and happy life for forty-six years, when the wife was called to her Father's home in 1887 at the age of 62 years.
Their union was blessed with nine children, five boys and four girls of which James, John H, Mrs Barsheba Kelly, Mrs Margaret McKelvie, and Mrs Mary E Houchins had passed away to await the coming of their father.
Uncle Jack, as he was familiarly known, was a staunch democrat as well as a patriot. He was a soldier in the rebellion, acting as cook for his company. He was never known to scratch his ticket for any man and the writer has heard him state that he and his seven brothers, who reached the age of manhood, had all assembled at the polls together time after time and all voted straight forward democratic ticket.
Uncle Jack was well known all over Warrick county, as well as the adjoining counties. He was acquainted with Ratcliff Boone and had been at Booneville when there were only three houses in the place. He met his death at 4 a.m., Friday morning, July 20, at the home of his son at Stewardsville, posey county. He leaves surviving him three sons, William N. Rickets of Keensburg, Ill.: Andrew A Rickets, of Posey county and Elihu R Ricketts, of Stewardsville, and one daughter, Mrs Nancy A Madden, of Stanley, Warrick County; besides a host of grandchildren, great-grandchildren, nephews, nieces, and other relatives and friends to morn his death. His remains were buried at Stewardsville; on account of the rain they could not be brought to Lynnville cemetery where his wife and children are buried; there they will wait the great resurrection morn.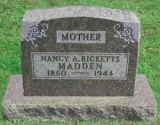 Nancy Ricketts
Transcribed by Connie Miller from records received from Linda Penrose and Nyeda.
Questions or Comments?
If you have questions or problems with this site, email the County Coordinator. Please to not ask for specfic research on your family. I am unable to do your personal research. I do not live in Indiana and do not have access to additional records.
Contact Us
If you have questions, contributions, or problems with this site, email:
Coordinator - Marsha Bryant
Lena Harper - State Coordinator - gostraka@yahoo.com
Jim Cox - Asst. State Coordinator - nyclvr2012@gmail.com
Karen Zach - Asst. State Coordinator - karen.zach@sbcglobal.net