Hemenway Cemetery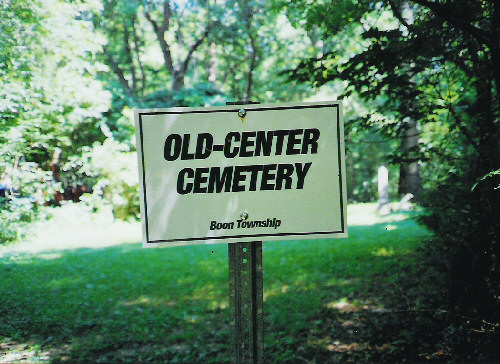 There is a new sign on this cemetery that reads "Old Center Cemetery - Boone Township"

Click on image for larger view.
Entrance sign image by Karen Nance
Tombstone images by Lynn Spohr
Submitted by Carolyn S. Wooton
"Research of Hemenway Cem Warrick Co., IN - May 2012 � This cemetery was part of land purchased by a gentleman I know. He deeded it to town of Chandler when he bought his land 12 years ago. The town of Chandler is responsible for the up keep. The sign put up by ?? the city says Old Boonville Cem. The locals know it as Hemenway Cemetery" - Lynn Spohr
In a letter from Opal Hunt: 'Mother's parents are buried at Hemenway cemetery, so I have been there many times, including this year. I remember the old house that stood near there when I was a child. It is a small, family cemetery. Some markers have fallen. Israel is buried there. This is north of the curve at Center, between Chandler and Boonville. It is a dead end road, and one must walk the last part.'

(Opal Hunt's mother was Fannie Shepard Wilkinson Sims b. 14 Nov 1893 d.25 Oct 1972 m. 10 Apr 1915 Noble Wilkinson m. 22 Oct 1921 Timothy Sims. Fannie's mother was Emma Bell Hemenway Shepard b 25 Mar 1861 d. 12 May 1899 m. 24 May 1884 William David Shepard. Emma Bell Hemenway's father was Benjamin Ely McClusky b. 24 Jun 1834 d. 27 Jun 1915 m. 2 Dec 1856 Elizabeth Adeline Robertson d. 4 May 1909. Benjamin Hemenway was the second son of Israel and Hannah Hall Hemenway.)

On August 22, 1975, I visited the Hemenway Cemetery and made the following notes and tombstone inscriptions:

HANNAH HALL HEMENWAY
b. Nov . 13, 1810
d. Dec 22, 1874 64 years
"Gone to receive the reward of a well spent life"
Wife of Israel

ISRAEL HEMENWAY
b. Jan 18, 1810
d. April 7, 1886
"Gone to rest"
In Memorium
F. L. T.
I. O. O. F.

JOSEPH THOMAS BAUGHN
Jan 15, 1852
Apr 6, 1908

FATHER & MOTHER'S GRAVES
WILLIAM & ELIZABETH

Surviving Children
Elizabeth, Benjamin, Hannah, Ephraim and
John Hall
A. D. 1858

SARAH ANN HEMENWAY CAMPBELL
Wife of Henry Campbell
H _______Hemenway
(?) looked like Aug 9 1861

CORPL.
GEO. F. ROBINSON
CO. H.
25 IND IN

MARY B. HEMENWAY
daughter of I & H Hemenway
died Jan 2, 1855
Aged 1 yr 6 mo 5 d

NETTA P. HEMENWAY
daughter of I & H Hemenway
died Oct 27, 1854
1 mo 29 d

LUCY M. HEMENWAY
daughter of I & H Hemenway
died June 25, 1852
aged 5 mo. 25 d

HARRIET HEMENWAY
daughter of I & H Hemenway
died Feb 10, 1847 (?)

ISRAEL H. HEMENWAY
son of I & H Hemenway
died Feb 2, 1843
2 yrs. 3 m. 15 d

JOHN CAMPBELL
son of _______ & S. A. Campbell
died May 25, 1863
birth July 23, 1862

BROKEN STONE
(?) CAMPBELL


NEW GRAVES
WILLIAM D. SHEPARD
1854 - 1936

EMMA B. SHEPARD
1861 - 1899
I recall that a neighbor was concerned about the upkeep of the cemetery and that motorcyclists road through the cemetery. There was also a prior comment that some of the headstones had been removed and used elsewhere as sidewalks.

I have been able to learn more about the family buried in the Hemenway Cemetery.

"Father and Mother's graves"
Hannah Hall Hemenway's parents. William and Elizabeth Hall information in Warrick and Its Prominent People by Monte Katterjohn 1909. Children: Mary, Caleb, Elizabeth, Hannah (who married Israel Hemenway), Ebenezer, Ephraim, John and Martha.

Joseph F. Baughn is the husband of Amanda R. Hemenway b. 1858, dau of Benjamin Ely McClusky Hemenway

On Sarah Ann Hemenway, I received an email dated 9/4/01 from Jack Campbell Alsip. He states,
'My great grandfather EBENEZER SHAW CAMPBELL married SARAH A. HEMENWAY September 8, 1861. He was a school teacher in Boonville. He was 5'6" with grey eyes. He enlisted in December 10, 1863 in Company E 120th Indiana Infantry. I have his wife Sarah's date of death as November 9, 1864. This date was on US Army pension documents filed by his third wife Eva Lenore Stanley. Ebenezer died March 2, 1890 and is buried in Red Bluff, California. It would appear that the broken Campbell stone in the cemetery may be that of his father, Dr. Ebenezer Campbell, who died in Warrick Country. The Dr. was married to an Amanda Burge, who married a Jesse Shaw after the Dr. died. I did not know that Sarah and Ebenezer had a young son who died as a child until I saw your records. I have quite a lot of info on Ebenezer, which I can send to you if you are interested. I would be interested in any info on Sarah that you have since I see that she is listed on page 59 in that book about Israel and his family. According to my info Sarah died while Ebenezer was recovering in a military hospital at Marietta, Georgia.'

I am not sure about the Corpl. Geo F. Robinson connection.

You may already know about a Hemenway Bible that is presently in the ownership of Mrs. C. Richard Johnson of Boonville. I spoke to her recently and her plan is to have the Hemenway Bible in a display case at the Hemenway Presbyterian Church in Boonville. On September 4, 1975, her husband Richard Johnson sent me information on the bible that was initially purchased by Jason Hemenway birth 14 September 1743. On page 678 inscribed is "Jason Hemenway (the person who purchased this bible) was born in the year of our Lord 1743 on the 14th day of September in said year." Richard Johnson's grandmother was Mrs. John Johnson (Mariamnia Hemenway - daughter of Israel and Hannah (Hall) Hemenway. There is more information that I can send regarding the Bible entries.


Questions or Comments?
If you have questions or problems with this site, email the County Coordinator. Please to not ask for specfic research on your family. I am unable to do your personal research. I do not live in Indiana and do not have access to additional records.
Contact Us
If you have questions, contributions, or problems with this site, email:
Coordinator - Marsha Bryant
Lena Harper - State Coordinator - gostraka@yahoo.com
Jim Cox - Asst. State Coordinator - nyclvr2012@gmail.com
Karen Zach - Asst. State Coordinator - karen.zach@sbcglobal.net