1911 Civil War Soldiers Reunion
submitted by Bob Harris
My great grandfather was Joseph Schumacher from Lynnville. In 1911 my g-grandfather held a Civil War Vets Reunion at his home just North of Lynnville. I have in my possession a photograph of the people at the reunion. I am able to identify sixteen of the thirty-seven who attended. I was wondering if you might be able to help in identifying the rest of the group either personally or on your web site.
If you know any of these people, please send their names into me for admission on this site.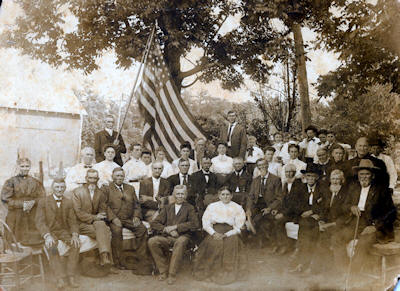 click on the picture to make it larger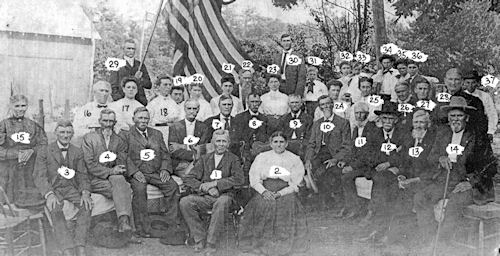 This photograph was taken in the year 1911, the last year of the Civil War Veterans Reunion held at the Joseph Schumacher home, about one and one-half miles north of Lynnville, IN.
Those attending were:

1. Joseph Schumacher
2. Pauline (Jeide) Schumacher
3.
4.
5.
6.
7.
8.
9.
10.
11.
12.
13.
14.Salvin W. Collins, Sgt. Co. E 65th Reg. Union Army
15.
16.
17. Frieda Schumacher
18.

19. Carrie (Stingle) Schumacher
20. Christine (Bawel) Schmidt
21. Maria (Schumacher) Schmidt
22. Thomas Rabern
23.
24.
25.
26.
27.
28. Mandalia(Mandy) Haines Collins
29. Warrick Rice
30. Jacob Schumacher
31. Alvin Schmidt
32. Edith Schumacher
33. Albert "Doc" Schmidt
34. Erwin Schmidt
35. Hugo Schumacher
36. Elmer Schumacher
37. Henry Schmidt

Questions or Comments?
If you have questions or problems with this site, email the County Coordinator. Please to not ask for specfic research on your family. I am unable to do your personal research. I do not live in Indiana and do not have access to additional records.
Contact Us
If you have questions, contributions, or problems with this site, email:
Coordinator - Marsha Bryant
Lena Harper - State Coordinator - gostraka@yahoo.com
Jim Cox - Asst. State Coordinator - nyclvr2012@gmail.com
Karen Zach - Asst. State Coordinator - karen.zach@sbcglobal.net