Millersburg
From "History of Warrick and its Prominent People," Crescent Publication Co., Boonville, IN, 1909
Millersburg, a village situated in Campbell township, about nine and a half miles northeast of Boonville (it was actually nortwest of Boonville), was laid out for the heirs of Philip Miller, one of the earliest settlers in the township. The village is chiefly noted for its early enterprise and what is once was. In 1824 Philip Miller built a small mill at this point, but in those days it was regarded as a good enterprise. Luke Grant also built a mill there, hence the appropriateness of the village's name is perceptible for more reasons than one. It was truly a Miller's burg.
The first merchant of whom anything is remembered is John Rasor. Samuel Parker and Moses Condit were the first to teach school in this vicinity. In 1859 the M. E. church was erected there, and in 1873 a school house. The old Wabash and Erie Canal passed by this place, and at the time of it's operation, Millersburg was most prosperous. The abandonment of the canal and remote situation of the village from any commercial outlet have been impediments to its growth. Its population is 150.
From "Historical Atlas of Warrick County," IN, 1880
Millersburgh- The village was laid out by Chester Elliott, for the heirs of Philip Miller. Mr. Miller was among the first settlers in the township. James Rasor is supposed to have been the first to engage in merchandising in the village. Luke Grant built a mill here at an early day. Phillip Miller also had a mill at this point, which was also known as Cox's Mill.
The first school-house in the vicinity was a log house, on the land now owned by Joseph Sheik. Moses Condit and Samuel Parker taught school in this house. The Methodist Church was erected about the year 1859 or '60; previous to this the organization held services in a log school-house in the village. The present school building was erected in 1872. The village contains two dry good stores, one tobacco warehouse, one blacksmith shop, one grist mill, two physicians, two churches and one Masonic hall.
The Union Church occupies the basement of the Masonic hall building, and is owned by that body. The church is free to all denominations. Dr. Charles Parke was instrumental in the building of the hall and church.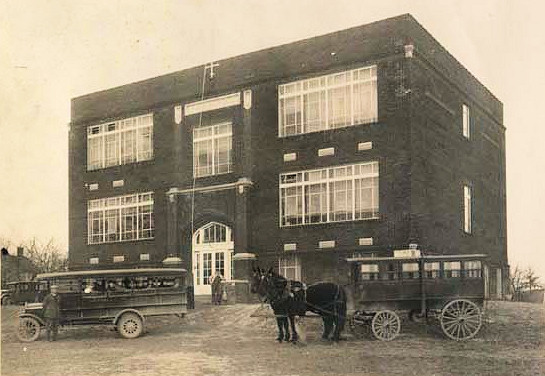 We all love the horse drawn school bus. My husband's, David, mother was Catherine Heilman. Her family founded the old town of Heilman. His father is Gilbert Nester and there once was a small community named Nester with the railroad tracks going in.
Bev Nester


Questions or Comments?
If you have questions or problems with this site, email the County Coordinator. Please to not ask for specfic research on your family. I am unable to do your personal research. I do not live in Indiana and do not have access to additional records.
Contact Us
If you have questions, contributions, or problems with this site, email:
Coordinator - Marsha Bryant
Lena Harper - State Coordinator - gostraka@yahoo.com
Jim Cox - Asst. State Coordinator - nyclvr2012@gmail.com
Karen Zach - Asst. State Coordinator - karen.zach@sbcglobal.net