Coffee, Ananias
Pension Record of Ananias Coffee
Sent in by Rebecca S. Yohonn
Name: Ananias Coffee
Rank: Private
Residence: Owen Township, Warrick County,
1st Congressional District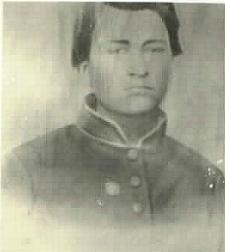 Description.
Age 18 years; height 5 feet 8 1/2 inches
Complexion: Fair, Eyes: Blue; Hair: Light
Where born: Warrick Co., Ind.
Occupation: Farmer
Enlistment.
When: January 19, 1864
Where: Warrick Co.
By Whom: J. Stephensen; term 3 years
Remarks: none
Regiment: 120 Regiment Indiana Infantry, Company D
Organized at Columbus, Ind., December 1863 to March, 1864

Company Muster-in Roll dated Vincennes, Ind., March 8, 1864
Bounty Paid: 60.00

REGIMENT MARCH TO CHARLESTON, TENN. APRIL 7-24
ATLANTA, GEO. CAMPAIGN MAY 1 - SEPTEMBER 8, 1864
Demonstrations on Dalton May 8-13
Rocky Faced Ridge May 8 - 11
Battle of Resaca May 14-15
Dallas May 18-25
Operations on line of Pumpkin Vine Creek and battles about Dallas, New Hope Church and Allatoona Hills May 25-June 5
Cassville May 27. Operations about Marietta and against Kenesaw Mountain June 10-July 2. Lost Mountain June 15-17
Muddy Creek June 17
Noyes Creek June 19
Assault on Kenesaw June 27
COMPANY MUSTER ROLL; Annanias Coffee, Private, Co. D 120 Reg't. PRESENT May/June
Nickajack Creek July 2-5 Chattahoochie River July 5-1
SIEGE OF ATLANTA July 22-August 25 Utoy Creek August 5-7
Flank movement on Jonesboro August 25-30
GENERAL AFFIDAVIT, not dated
I, Thomas E. Reed, late private of Co. D., 120 Ind. Vol. Inft. in the matter of pension claim of Annias Coffee declare "that I was a member of the same company and regiment with this claimant and I will remember that while the command was at Vincennes Ind. some time in Feb. 1864 the claimant had a attack of measles and was very bad and I was detailed to wait on him during this attack and after he recovered he had a bad cough and appeared to have some trouble with his lungs and still complains with his lungs and I also remember that of the claimant getting a fall that hurt his hips and back...he received this fall I think some time in July 1864 while the command was on a double quick march (on the way to Atlanta) the claimant fell on a rock and received this injury I have saw this claimant frequently since the war he is still complaining with said diseases from my acquaintance with said soldier I am of the opinion that he is disabled the most of his time at least two thirds from performing manual labor on account of said diseases. I further declare that I have no interest in said case, and are not concerned in its prosecution."
Signed Thomas E. Reed and George W. Wallace, Notary Public Warrick Co., Ind.
COMPANY MUSTER ROLL: Annanias Coffee, Private, Co. D. 120th Reg't. PRESENT July/Aug Lovejoy Station September 2-6 Operations in North Georgia and North Alabama against Hood Sept. 29-Nov. 3
COMPANY MUSTER ROLL: Annanias Coffee, Private Co. D. 120th Reg't.
PRESENT Sept/Oct
Nashville Campaign Nov/Dec
In front of Columbia Nov 24-27
Battle of Franklin Nov 30
Battle of Nashville Dec 15-16
Pursuit of Hood to the Tennesee River Dec 17-26
COMPANY MUSTER ROLL: Annanias Coffee, Private, Co. D. 120th Reg't
PRESENT Nov/Dec
At Clifton, Tenn., "till" January 15, 1865
Movement to Washington D.C., thence to Morehead City, N.C., Jan. 15-Feb. 24
COMPANY MUSTER ROLL: Annanias Coffee, Private, Co. D. 120th Reg't
PRESENT Jan/Feb 1865.
Campaign of the Carolinas March 1-April 26. Advance on Kinston and Goldsboro March 1-21. Bennett's House April 26...Surrender of Johnston and his army.
COMPANY MUSTER ROLL: Annanias Coffee, Private, Co. D. 120th Reg't.
PRESENT Mar/Apr
Duty at Raleigh "till" May 10. At Charlotte and Greensboro, N.C., "till" August 21.
COMPANY MUSTER ROLL: Annanias Coffee, Private, Co. D. 120th Reg't.
ABSENT ON FURLOUGH July/Aug 1865
At Raleigh "till" January, 1866.
COMPANY MUSTER ROLL: Annanias Coffee, Private, Co. D. 120th Reg't
PRESENT Sep/Oct For Transportation: $52.29
COMPANY MUSTER ROLL: Annanias Coffee, Private, Co. D. 120th Reg't
PRESENT Nov/Dec
120th Reg't MUSTERED OUT January 8, 1866.

Ananias Coffee, Pvt., Co. D., 120th Reg't Indiana Inf. Age 18 years appears on Company Muster Out Roll, Raleigh N.C., dated Jan. 9, 1866. Last PAID to Oct. 31, 1865. Clothing account due U.S. $24.30 and for arms, equipments, etc., bounty paid $220.

This Regiment lost during service:
Killed and mortally wounded, 1 officer and 26 enlisted men
To disease: 1 officer and 140 enlisted men
Total: 168

March 12, 1890 - The medical records show him treated as follows: No record found.

Mary Coffee (nee Skelton, daughter of Judge Zachariah Skelton of Skelton Township, Warrick County, Ind.) filed a Widow's Declaration for Pension on September 27, 1897 at 53 years of age.
Nancy A. Crook supported the pension claim for Ananias Coffee's wildow, Mary Coffee, nee Skelton, by appearing before a notary public on January 28, 1898. She was a resident of "near Tennyson" in Warrick County, Indiana. She states:
"I have known Mary Coffee and Annais Coffee her husband for the past thirty years and that they have lived together ever since their marriage and have never been divorced from each other. I know that Mary A. (for Alice) Coffee was born in October 1881 and that Annie was born in Nov 1883 by means of knowledge is that I was present when they was born this was writen by Thos P Sibiel by my request and further I have no interest in the prosecution of the above claim" Signed Nancy A. Crook, age 51.

Ananias Coffee died of "contracted nasal catarrh and incurred injury to back while in said Co. D 120th Reg't Ind Vol Infty and who died of said illness on August 28, 1897."

Mary Skelton and Ananias Coffee were married February 28, 1866 by Elijah Skelton, J.P., at Warrick County Indiana. The children at home at the time of their father's death were:

1) Mary Alice, born October 28, 1881
2) Annie G., born November 23, 1883
3) Louisa E. born May 16, 1886

The Coffee family surname spelling was later changed to "Coffey" because the children were teased in school.

Mary Alice Coffee's late husband was a pensioner certificate no. 557447. Address: Midway, Spencer Co., Ind. Ananias Coffee was assessed at his death with personal property in the amount of $25.00, no real estate.
Sources: Civil War Pension file for Ananias (Annanias) Coffee
Dyer, F. H., A Compendium of The War of The Rebellion, 1908.

Zachariah Skelton (founded Skelton Township, Ind.) m. Julian Scales. Their daughter, Mary A. Skelton m. Ananias Coffee.
Questions or Comments?
If you have questions or problems with this site, email the County Coordinator. Please to not ask for specfic research on your family. I am unable to do your personal research. I do not live in Indiana and do not have access to additional records.